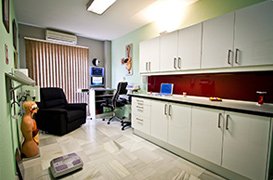 One of the most common questions we get asked at the GMBand Clinic is regarding the costs of our GMB Permanent Weight Loss Treatment.
How can we justify the cost difference between the registered Gastric Mind Band® Permanent Weight Loss Treatment and the many other Hypnosis clinics offering what appears to be a similar treatment, at sometimes half the cost? We understand that some people, for a range of reasons, are focused purely on the price of their treatment, leading them to search for the cheapest weight loss hypnosis type clinic they can find, and also question why travel to Spain if you can complete the treatment closer to home.
However, what you must understand is that quality and obtaining permanent weight loss results is synonymous with price. For example, the price for weight loss hypnotherapy type treatment in the UK, whether you are looking to quit smoking or lose weight ranges between £125 to £475 per session, which normally lasts about an hour. But when it comes to the all important area of your long term health, we believe making a commitment and your investment should be the driving factor in your decision, along with researching just who you entrust to help you in this very important area of your life. In the long run, going with a hypnotherapist or hypnosis clinic with experience and the right certifications to back them up along with proven and published results will provide you with the value and hopefully the results you want, need and of course, deserve.
You should also be fully aware that research has proven that Hypnotherapy as a stand alone approach seldom provides long term results in the weight loss arena. As described on the many pages of the GMB site, our treatment is based around a number of proven Psychological interventions, underpinned with Hypnotherapy, which is very different, and the result of over ten years research and development at the Elite Weight Loss Clinic.
The chart below displays EXACTLY what we offer. Besides general hypnosis, let us assure you, you will experience a lot more than just sitting in a chair relaxing. Your health is our first priority along with delivering permanent weight loss results and as you will see below, we require and implement full health analysis, which includes full blood and body analysis tests.
The bottom line is if you're looking for cheap hypnotherapy then you're going to find less value. We've put together a chart showing you how different we are, not only because of our years of experience, certifications and education; but also because of the value we provide to our clients. We offer a Gold Standard service, incorporating full Skype or Face Time follow-ups, we provide full support before and after our treatment, and walk with you every step of the way on your weight loss journey.
We encourage you to do your research and look for other hypnosis clinics offering weight loss treatment, as well as individual hypnotherapists. Find out what they offer for the price involved then simply compare it with our chart below. Finally, maybe ask yourself why over a thousand people, both celebrities and members of the public, have travelled around the world to experience the GMB Treatment in Spain
| | | |
| --- | --- | --- |
| Treatment Components | GMB – Elite Spain | Others |
| Minimum of 16 hours of one to one therapy time, exclusively with Martin and Marion Shirran. |   |   |
| Treatment includes full, professional blood tests and analysis. Including total Cholesterol, HDL and LDL Cholesterol, Triglycerides, short term fasting Glucose (blood sugar) and Haemoglobin A1c (HbA1c), which provides your average blood sugar levels over the previous 3 months. |   |   |
| Full Tanita Body analysis tests undertaken, including fat mass, body fat percentage and visceral fat rating. The test also confirms your unique 'Metabolic Finger Print'. |   |   |
| Treatment incorporates four sessions of CBT, PBT, Clinical Hypnosis and NLP. |   |   |
| Dedicated session around latest cutting edge Nutritional Information, proven to be essential for achieving permanent weight loss. |   |   |
| Clinical Evidence of treatments effectiveness, as presented at International Psychology Conferences published on clinic's website. |   |   |
| Unique Forensic Weight Loss Questionnaire®, developed in-house, used to ensure that each client is treated as an individual. |   |   |
| All clients are treated exclusively by the GMB developers and authors. |   |   |
| Each session digitally recorded enabling clients to repeat elements at home if required. |   |   |
| Pulse Oximeter (Heart Monitor) used during Clinical Hypnosis sessions to ensure correct level and depth of relaxation. |   |   |
| Full 50 page GMB work book/ manual provided to each client following their treatment. |   |   |
| Over 1,000 clients already treated unedited and verified case studies, and photos published. |   |   |
| Regular follow up Skype / FaceTime sessions following treatment completion. The treatment does not stop when you leave the clinic. |   |   |
| Set of weight loss tools exclusive to GMB treatment and presented to each client. |   |   |
| Independent Media reviews of GMB Treatment, both Press and TV published on clinic website. |   |   |
| Treatment undertaken at the dedicated smart, modern and fully equipped Elite Clinic, located in Southern Spain, just twenty minutes from Malaga airport. |   |   |
| Each client presented with signed copies of the authors books, as published globally by Hay House. |   |   |
| GMB treatment subject to continuous and on-going Research and Development. |   |   |
| | | |