Read all of our frequently asked questions by previous customers. If there is anything else that you would like to know more about, or anything that isn't covered in the below FAQ's, please do get in contact with us and we will happily explain everything to you over the phone. You can read exciting news about our latest fully downloadable product My Weigh Less here https://myweighless.com/
Treatment packages can be provisionally booked by email or over the phone. The booking will be confirmed and a full schedule of the treatment sessions will be emailed to you on receipt of the deposit of £495, which can be paid online with Pay-Pal or with your credit or debit card, or, if your prefer, by bank transfer. Please visit the Appointments page where you will find the 'Buy Now' button to pay your deposit.
The balance for your treatment, can also be paid the same way, or you may pay the balance on arrival at the clinic during your first session, if you prefer. Look at the 'Appointments' section of the site for full details of our fees.
If you need any further information, please don't hesitate to contact us.
Many clients don't actually ask us this question but we know from experience that it is one they ask themselves, or one that their partners, family or friends ask of them. So how can we justify the cost difference between the registered Gastric Mind Band® Permanent Weight Loss Treatment and the many other Hypnosis clinics offering what appears to be a similar treatment, … Just take one minute of your time and visit this Blog Page that hopefully explains the perceived cost differences.
With up to 54 flights a day between the UK and Malaga Airport It's easy to get to Spain for the Gastric Mind Band Therapy. There are a number of different Airlines offering deals on Flights between the UK and Malaga. Once you arrive at Malaga airport, getting to Fuengirola is simple. The dedicated train service runs directly from the airport terminal to Fuengirola, and as Fuengirola is the end of the line you don't need to worry about where to get off, the clinic is a five minute walk from the station, the cost is just €3.00. If you prefer, you can take a taxi from Malaga airport to Fuengirola, the journey will take less than 20 minutes and costs approximately €30.
If you need any further information, please don't hesitate to contact us.
One thing that Fuengirola does have, along with one of the longest promenades in Europe and plenty of sunshine, is literally hundreds of hotels. It would be difficult to list them all, but the following are known to us, and vary from two to five star ratings. All are within walking distance of the clinic. Do feel free to email or phone us if you require any assistance.
Additionally, if you search on the Internet for basic, hostel type accommodation in Fuengirola, you will find a number of low cost options. The Hostels are usually on a room only basis.
The Hostal Marbella is a lovely place, very clean, friendly, multilingual staff and excellent value for money. It's less than 5 minutes walk away from the clinic, situated in a very quiet, pedestrian street, right in the centre of town. They offer continental breakfast as an optional extra.
If you prefer staying somewhere on a self-catering basis, there are plenty of "Aparthotels" to choose from.
Stella Maris Aparthotel – 3 star self-catering apartments and studios opposite the beach. 15 minutes walk from the clinic.
Whilst the trend is for people to book their flights and accommodation independently, we are often told by clients that they have booked a last minute package holiday, which obviously includes transfers etc, normally at a considerably discounted price. The links below are the ones we have used in the past.
otBeach.com
FirstChoice.co.uk
Lastminute.com
Directline-Holidays.co.uk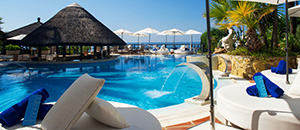 In addition, we have our own favourite hotel on the coast, where we know you will be spoilt. It is in la Cala village, which is about 10 minutes drive from Fuengirola.
El Oceano Beach Hotel
If you need any further information, please don't hesitate to contact us.
No, in addition to the treatment being available in Europe via the developers at the Elite Clinic in Spain, the therapy is available in various other locations. You can find the different clinics contact details via the 'Countries' section, which is accessed by the drop down Treatments tab on the website.
If you need any further information, please don't hesitate to contact us.
Of course it is always nice to bring a friend or partner on the trip with you. However, whilst they will be made totally welcome at the clinic, they will not be able to join you in the actual treatment room, but are welcome to wait in reception, if they wish.
The Costa del Sol area has many different attractions, so we're sure that your stay will be most enjoyable and we are always happy to help you with ideas of places to see and visit.
If you need any further information, please don't hesitate to contact us.
Advance booking requirements for sessions vary greatly, but as a general rule if you are flexible with regard to the day of the week and the time of day that you will undertake your sessions, then the waiting time will be considerably less. Please feel free to contact us by phone or email for details.
We are always aware of clients' time restraints, so use our best endeavours to open the clinic at least one weekend per month, to allow clients access to the therapy without having to take too much time away from work and home commitments.
If you need any further information, please don't hesitate to contact us.
The treatment is conducted using carefully chosen elements of a number of proven disciplines and therapies including Hypnotherapy, CBT (Cognitive Behaviour Therapy), guided imagery and NLP (Neuro Linguistic Programming), each being used to powerfully underpin the other. For more detailed information about the different sessions involved in the Gastric Mind Band Treatment, please go to the 'About GMB' section of the site.
During the sessions we use hypnotherapy and guided imagery to address the client's cognitive awareness, continually suggesting that their stomach is shrinking in size, until eventually we mentally take the person through the surgical process of having a gastric band fitted and the different sensations they would normally expect to feel after surgery. After the "gastric band" session, the client perceives their stomach as being reduced to the size of a golf ball, which equates to the size of the pouch created during an actual gastric band operation, and so they feel as if they are only able to eat very small portions of food before their stomach feels full.
A considerable amount of therapy time is also dedicated to using CBT to demonstrate exactly how the mind works with regard to food and eating, and to ultimately change a person's relationship with food, and possibly alcohol, so that weight loss becomes an easy and natural process.
If you need any further information, please don't hesitate to contact us.
At the Elite Clinic in Spain, your Gastric Mind Band Therapy will be undertaken by the founders, Martin and Marion Shirran, and therapists of both sexes are present at the clinic at all times.
If you need any further information, please don't hesitate to contact us.
The million-dollar question! At the clinic our future and reputation depends on our clients' success, we rely on both positive publicity and personal recommendations, so you can rest assured that we want your success as much as you do.
But just like traditional Gastric Band Surgery, which has a 70 – 75% Success Rate, the GMB therapy does not provide a 100% solution, (very few things in life do!). At the clinic we project a success rate in the region of 75%. Success is dependent on the person being committed to losing weight, and being prepared to follow the programme, and make a few recommended, small, not unpleasant, lifestyle changes.
For details of the weight loss achieved by clients, please take a look at the 'Case Studies' section of the site.
If you need any further information, please don't hesitate to contact us.
Occasionally it has been necessary for clients to return to the clinic for one or more additional sessions, over and above the standard fifth session. Should this be the case, then the additional sessions are charged at £80 each, regardless of length of the session.
We are always happy to arrange Skype or FaceTime sessions with clients, as we know that clients find it much easier when they keep in regular contact with us after the initial treatment.
If you need any further information, please don't hesitate to contact us.
Our recommendation is for clients to undertake the Gastric Mind Band Therapy over either a three, or four-day period, in order to experience the full benefit of the intense sessions.
If you need any further information, please don't hesitate to contact us.
With the traditional, surgical, gastric band proceeded there are a number of medical factors that are normally required to be met before an individual is accepted as a suitable candidate. However with the Gastric mind Band Therapy the restrictions are more flexible. As an example, GMB therapy can be used to help people who are maybe just a little overweight, rather than clinically obese.If you have simply struggled with your weight for a number of years, and have tried lots of different diets, and currently have a BMI of 25 or over, then the GMB therapy is perfect for you.
On the other hand, if you are suffering from a psychological eating disorder, (binge eating, bulimia, or anorexia), then the GMB therapy is not the right course of treatment for you at this time. We would recommend that you should first attend a course of Cognitive Behaviour Therapy sessions specifically for your particular eating disorder, and, when you have successfully completed these sessions, we can happily discuss the possibility of you undertaking the GMB therapy.
If you need any further information, please don't hesitate to contact us.
The ongoing support and the level of after care of our clients has been identified as a vital component of the Gastric Mind Band Treatment, especially in the first six weeks.
In addition to complementary Skype sessions following your treatment. We use our best endeavours to ensure that each client remains in regular contact, usually by phone and or email during the initial period. Of course everything does not stop after six weeks; we are here and ready to help at any time whilst our clients continue on their journey to a new slimmer self.
If you need any further information, please don't hesitate to contact us.
This whole programme is completely natural and there are absolutely no negative side effects at all – the only obvious side effect, which is completely positive, is for you to lose the desired amount of weight.
The good news is that the weight starts to come off immediately, right after the very first session, and it should be steady and continuous until you are happy that you've reached your target weight.
If you need any further information, please don't hesitate to contact us.
Our aim is to help clients move away from whole concept of the dieting mentality; this is designed to be a permanent way of life, incorporating certain lifestyle changes, rather than just following a temporary diet and simply reverting back to the old habits again. Peoples often find it helpful to reduce, or eliminate certain foods, in order to lose weight, but we do advise clients to make sure they eat a well-balanced, healthy, overall diet.
We do devote time during the sessions to discussing portion sizes and provide a number of useful tips on how to exercise portion control.
If you need any further information, please don't hesitate to contact us.
The therapy is specifically designed to teach clients how to change their whole attitude to food and eating, permanently, using a combination of CBT, Hypnotherapy and NLP. During the sessions you will go through a process of re-educating your mind, so that you end up regarding food simply as a source of nutrition, rather than an emotional crutch. This will become a permanent lifestyle change, which will have long-lasting benefits. Plus, of course, you will have your Gastric Mind Band fitted, to ensure that you'll never be tempted to overeat again.
In addition, when you get close to your target weight, we offer you a final, booster session of CBT and Hypnotherapy combined, to make sure that you will be properly equipped with both the tools and the knowledge to manage your weight successfully for ever.
If you need any further information, please don't hesitate to contact us.
Yes, and we've got several case studies to prove it. Hypnotherapy has been used for over a century in helping people with anxiety, fears and more. In the 20th century, hypnosis was widely used to help people quit smoking. Hypnotherapy is used across the world today to help people overcome all sorts of problems and issues.
We use several therapies and psychological approaches for our weight loss hypnosis technique. This includes:
• Cognitive Behaviour Therapy
• Time Perspective Therapy
• NLP (Neuro Linguistic Programming)
• Hypnosis
• Guided Imagery
• Mindfulness Techniques
• Pause Button Therapy
Cognitive Behaviour therapy is a type of therapy we use in treatment. CBT therapy & weight loss hypnosis is combined to help treat people with overeating. Over eating is actually a state of mind, and your brain can be re-trained through CBT therapy and hypnosis, ultimately changing your relationship with food.
Research has shown us that when it comes to treating patients with anxiety disorders, therapy is the best possible option. Therapy treats more than just the symptoms of anxiety, unlike anxiety medications. Through therapy, the patient can uncover the underlying causes of worries and fears. Patients learn to relax, and look at situations in a new, less frightening way. They develop better coping skills, along with problem-solving skills, and the therapy can provide the necessary tools needed to overcome anxiety.
TPT or time perspective therapy evolved from cognitive behavioural therapy (CBT). The therapy is basically "talk therapy", and is goal-oriented. TPT works best in clinical settings and as a self-help tool. TPT switches the focus from past to present, from negative to positive, clearing a pathway for the best yet to come – the future. TPT has worked for a wide range of people from every walk of life.
NLP or Neuro Linguistic Programming is an approach to communication, personal development, and psychotherapy created by Richard Bandler and John Grinder in California, United States in the 1970s.
The neurological system regulates how our bodies function, language determines how we interface and communicate with other people and our programming determines the kinds of models of the world we create. Neuro-Linguistic Programming describes the fundamental dynamics between mind (neuro) and language (linguistic) and how their interplay affects our body and behaviour (programming).
Guided imagery refers to a wide variety of techniques including simple visualization and direct suggestion using imagery. This type of therapy has found widespread scientific and public acceptance, and is now being used to teach psychophysiological relaxation, alleviate anxiety and depression, relieve physical and psychological symptoms, overcome health – endangering habits, resolve conflicts, and help patients prepare for surgery and tolerate procedures more comfortably.
When it comes to mindfulness therapy, there are several exercises that allow you to identify, tolerate and reduce difficult, painful and even frightening thoughts or feelings and sensations. By using this therapy in conjunction with the other therapies used throughout the weight loss hypnosis sessions, you are given back control over your thoughts and feelings. One of the most direct issues when it comes to weight loss or dieting is our relationship with food. "Comfort food" is one big example, and many of us will eat when we are sad. With mindfulness therapy techniques, rather than having the sense that you are being pushed around by your feelings and thoughts you learn to be able to have some control over them, thus changing your relationship with food.
Pause Button Therapy is one of the most important components of the Gastric Mind Band therapy. In general terms, this therapy provides you with additional thinking time, and allows you to consider the potential consequences of your actions. When it comes to food, we simply give you the ability to stop and think or in this case "pause" for a moment and adjust your behaviour accordingly. PBT has been hugely successful in the treatment of everything from addiction and weight issues to depression, anxiety and relationship problems.
Visit our GMBand Books, Audio and Products page and order our bestselling book Pause Button Therapy.