Dr Sherona Rawat, M.Soc.Sc.(Clinical Psych.), PhD. 
Gastric Mind Band South Africa. Dr Sherona Rawat is a Clinical Psychologist. She completed her postgraduate degrees at the prestigious University of Kwa-Zulu Natal (Pmb), with additional Masters training in Gender Studies, professional training in Clinical Hypnosis, and a PhD in Community Psychology. She is currently studying towards a medical degree (M.D.).
Dr Rawat is licensed with the HPCSA and BHF. She has trained in a variety of therapeutic modalities, including EEG and QEEG biofeedback training. Dr Rawat, along with her daughter Nazeera, visited Martin and Marion, in Spain where they both completed the Gastric Mind Band treatment. Dr Rawat is accredited and licenced to provide the GMB treatment in South Africa via her clinic which is run and managed by Dr Rawat and her three children, Nazeera, Waseem and Azeeza.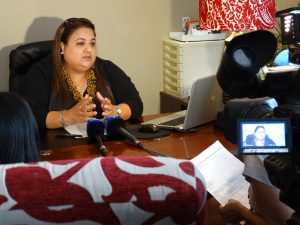 She regularly  appears on radio shows on SABC, Lotus FM, Al Ansaar Radio and Cii as well as on SABC TV News. She writes comment for Cosmopolitan, Elle, Psychologies, Destiny, Fairlady, Longevity, Shape, Women's Health and the Oprah Magazine, websites such as Destiny Connect and newspapers such as The Daily News and Sunday Times. She has mentored for Destiny Online and was featured on Mela, a variety TV show.
Dr Rawat encourages a holistic outlook to mental health and recommends a range of natural supplements. She explores an avid interest in Functional Medicine and natural alternatives to invasive medical treatments. Dr Rawat and her family have had their own battles with medical, environmental and behavioural elements impacting on their weight. Her personal interest in the area of weight management has resulted in an arsenal of information and knowledge in the field of weight loss, health and well being, and the GMB treatment is a great fit with treatments options available at her clinic in Durban, South Africa.
Dr Sherona Rawat, Clinical Psychologist
Unit 1,337 Randles Road,
Sydenham, Durban, South Africa
Tel.: 031 2077774/2088884
Email.: drsheronarawat@gmail.com