Lost whopping 144lbs – Sarah Jayne Hart (now Price) Weight Loss Success Story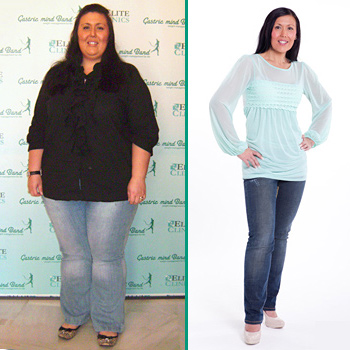 Sarah lost half her body weight after having the Gastric Mind Band Therapy. Her story, "I Lost Whopping 144lbs", has been told around the world…
When Sarah visited the Elite Clinic in Spain she weighed in excess of 20 stone. Her BMI was 46.7 and she was rated as morbidly obese. She went on and lost whopping 144lbs. You can read a story from the Daily Mail following her treatment here.
Sarah had high blood pressure and was on medication for asthma, she was constantly tired and sometimes struggled just to walk. She managed to squeeze herself into size 22 clothes.
After completing the Gastric Mind Band Treatment Sarah's weight has dropped to 9 stone 12lbs. A weight loss of 144 lbs. Her BMI is 23.8, a level which is rated as healthy and normal, her blood pressure also reduced to a normal level, and the asthma is virtually nonexistent. Sarah has a passion for running now and she has completed several half marathons.
---
All of the Gastric Mind Band® (GMB) client testimonials on this site are the clients own words and opinions. The GMB treatment is not intended to diagnose, treat, cure or prevent any disease. Read our full disclaimer here.
---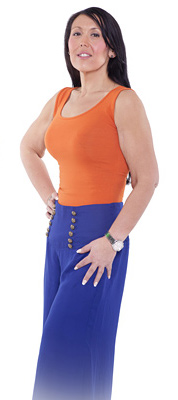 Her weight at the commencement of the treatment was in excess of 20 stone. Her initial goal was to get down to 14½ stone; she could not contemplate ever being under the 14 stone mark, as she had been over 15 stone all through her teenage years. Read how Sarah lost whopping 144lbs with the Gastric Mind Band Treatment. However, after the GMB treatment, when she did get down to her goal weight of 14 stone, she was finding her new way of eating and her positive relationship with food so easy and natural that she carried on, and now loves jumping on the scales and seeing the 9 stone mark! It has exceeded all her dreams, and opened up a whole new life. I Lost Whopping 144lb!
---
Sarah lives in Mid Glamorgan and works in the travel industry at Cardiff airport, she has been married to her husband Lee for eleven years and they have two children.
She read about the Gastric mind Band and the Elite clinic in a UK magazine and after reading the info on the web site she decided to book and fly over to Spain, "certainly one of the better decisions in my life" she says.
Previously she had tried just about every diet that existed including trying Diet Pills and also joined a number of the so called slimming clubs, she did sometimes manage to lose a little weight when following the other diets, but then put it all back on again. She had spent many hours reading about Gastric Band Surgery and the problems, she even joined a few forums on the subject, after reading about the many side effects of the surgical alternative she decided it was not for her.
---
Sarah lost a whopping 144lbs
Sarah said "the GMB treatment was different from the start, I never saw it as a diet, I returned home after having the treatment with a totally different relationship with food, I just ate when I was hungry and not for all the other reasons that I had in the past, the Gastric mind Band also ensured that I automatically felt full on much smaller portions." I also started eating so much slower following the CBT session, I remember Martin telling me that 'Thin Women Eat Slowly', I never forgot it. Additional information about Sarah appears in the Weight Loss For Brides section of this site.
Following her treatment Sarah has been featured on TV shows in both the UK and Australia, all interested in the same thing "Lost whopping 144lbs" Sarah's story has been told in the Daily Mail and Daily Express Newspapers and in a number of national magazines. You can read a number of articles about Sarah's weight loss journey in the press section.
---

But Does It Work…
Read the independent review of the GMB treatment published in The Daily Mail.
A UK-based journalist interested in weight loss, Claudia Connell of the Daily Mail, travelled to Spain to meet Martin and Marion and experience the Gastric Mind Band for herself. Two weeks later she wrote a two-page feature in the Daily Mail detailing her treatment that literally got the world talking. Read her article from the Daily Mail Newspaper here.
---
But first, if you still have doubts, why not 'Try it Before You Buy it'.
We recently recorded a one hour MP3 audio file, which contains a full introduction of the GMB treatment by Martin and Marion Shirran and includes a studio-produced full GMB Hypnotherapy Session, it will hopefully demonstrate to you how with the GMB treatment you really can achieve the Permanent Weight Loss you desire. The MP3 download costs just £9.95, which is fully refundable should you at any time within six months of purchase decide to undertake the GMB treatment in any format. You can read more information and if you wish download the file here.
You really have nothing to lose….Just Excess Weight
---

International Home Visits
In addition to providing the Gastric Mind Band treatment at the clinic, Martin and Marion continue to offer the full treatment package internationally via private home visits worldwide; the fees are subject to availability and negotiation.
Potential clients requiring additional information or details of availability are invited to contact Martin and Marion.
---
Gastric Mind Band Blog
Keep up to date with the latest news and trends around everything regarding Dieting, Weight Management, Nutrition and Exercise by visiting our Blog page. With new in-depth info being added every week make sure you book mark the page and visit regularly. Click here to see what everyone is talking about, feel free to share the link with your friends.
---
Contact Us

So if you're tired of yo-yo dieting and weight loss gimmicks that don't work and are ready to permanently change your relationship with food, email us today using the contact form and we will be pleased to answer any outstanding questions you may have. We look forward to hearing from you soon and maybe meeting you and helping you change your life for the better. If you have any questions regarding the treatment, please feel free to contact us at your convenience.
---
For a brief introduction to the GMB treatment view the short animation video below.