Weight Loss Success Story: 70 pounds lighter for Alison
Weight Loss Success, weight Loss Spain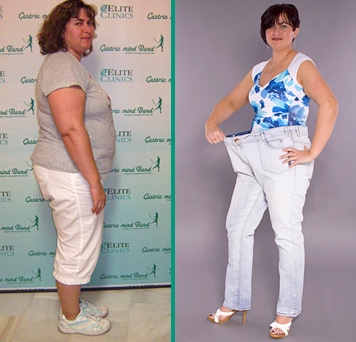 Alison was not a big child or plump teenager. Weight Loss success, Weight Loss Spain. At 17 her waist was still a size 10-12 but her broad hips meant that she had to buy size 14s. At 5ft 4in she was a perfectly normal weight for her age and height. As she told us, she really needed a permanent weight loss success.

I met my husband and my weight slowly crept up to 10½ stone over a 7 year period before we got married. My wedding dress was a size 12-14 and I was happy and healthy. My first pregnancy went well but I was given the eating for two mentality from both my Grandmothers and ballooned to 16 stone 8 pounds. The delivery was horrendous due to my daughter getting stuck and I developed post-natal depression which lasted for about 8 months. I ate for comfort, I ate for boredom, I ate when stressed and then I kicked myself back into touch and joined a slimming club getting back down to 11½ stone before I found out I was pregnant again.
Sadly I had a miscarriage following which and my weight shot up to 13 stone. Two more miscarriages later and I was 13½ stone and miserable until I finally had a successful 38-week pregnancy resulting in my son. I was 16 stone 11 pounds on the day I gave birth but within 3 months I was back down to 13½ stone. No post-natal depression with this one but the comfort eating persisted.
I tried every slimming club imaginable and even did a liquid diet, and tried Diet Pills losing 4 stone in 6 months, but all this weight just went straight back on again because my comfort eating was never tackled. I eventually had counselling at an eating disorder clinic where I was officially diagnosed with Binge Eating Disorder. This is a genuine eating disorder where the willpower switch in the sufferer no longer works and the control of the eating disappears completely. I was made aware that I had been doing this since I was 11 due to bullying at school. However, no help was offered other than to keep myself busy.
---
All of the Gastric Mind Band® (GMB) client testimonials on this site are the clients own words and opinions. The GMB treatment is not intended to diagnose, treat, cure or prevent any disease. Read our full disclaimer here.
---
Weight loss success with the Gastric Mind Band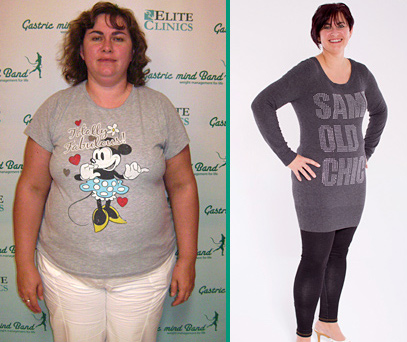 By June 2009 I was 17 stone and extremely close to having a stroke as my blood pressure was dangerously high (I was 39 years old)! I was put on various tablets for blood pressure along with extremely strong painkillers for a 20 year lower back condition. I was in too much pain to exercise enough and the vicious circle just kept going round and round until my dad told me about an article he had read in his weekend paper about the Gastric Mind Band. Weight Loss success, Weight Loss Spain. It was a success story and sounded too good to be true. However, my parents encouraged me to ring for an appointment and Martin Shirran booked me in for November the 10th.
That date will forever be remembered as the day I got back control of my life. The four sessions were incredibly intense and I did do quite a bit of crying during the Cognitive Behaviour Therapy, but the video clips of Gastric Band operations and clogged arteries and discussing the problems associated with the surgery confirmed I had made the right decision. Plus the fantastic support of both Martin and Marion spurred me on to take hypnosis seriously. I was amazed at the results. Glad I found Weight Loss success, Weight Loss Spain article.

From the very first session I just new this was going to be my final and permanent weight loss success. I was eating less and healthier but not feeling hungry at all. Some days I had to force myself to eat something. After 1 week I had lost 8 pounds and this encouraged me to continue using the hypnosis CDs I had been sent home with to keep me focused. My weight continued to come off steadily until the beginning of February 2010 when my back pain became so chronic that I was put on liquid Morphine on top of my mega strong Co-Codamol whilst waiting for painkilling injections into the joints of my lower back.
These tablets required me to eat more food than I was accustomed to and, although I did not put any weight on, I remained at a stable 14 stone 8 pounds until May. Becoming exasperated by it all I joined my local gym with the thought that I was already on Morphine so doing a little bit of exercise would not make my condition any worse. By this time I was also able to lower my food intake once more as my body was now used to the increase in the drugs. It was hard work for the first 3 weeks as I did not feel I was doing much exercise but my weight started to come off again and my back pain eventually lessened to a point where I was able to cut down on the stronger painkillers and only take them when I really needed them.
It is now October and I am 12 stone 6 pounds with only 20 pounds to go until I get to my goal weight. I am fitter and healthier than I have been in a very very long time, my back pain is now bearable and it is all thanks to Martin and Marion and the Gastric Mind Band. Read Next Story
---
But first, if you still have doubts, why not 'Try it Before You Buy it'.
We recently recorded a one hour MP3 audio file, which contains a full introduction of the GMB treatment by Martin and Marion Shirran and includes a studio-produced full GMB Hypnotherapy Session, it will hopefully demonstrate to you how with the GMB treatment you really can achieve the Permanent Weight Loss you desire. The MP3 download costs just £9.95, which is fully refundable should you at any time within six months of purchase decide to undertake the GMB treatment in any format. You can read more information and if you wish download the file here.
You really have nothing to lose….Just Excess Weight
---

International Home Visits
In addition to providing the Gastric Mind Band treatment at the clinic, Martin and Marion continue to offer the full treatment package internationally via private home visits worldwide; the fees are subject to availability and negotiation.
Potential clients requiring additional information or details of availability are invited to contact Martin and Marion.
---
Gastric Mind Band Blog
Keep up to date with the latest news and trends around everything regarding Dieting, Weight Management, Nutrition and Exercise by visiting our Blog page. With new in-depth info being added every week make sure you book mark the page and visit regularly. Click here to see what everyone is talking about, feel free to share the link with your friends.
---
Contact Us

So if you're tired of yo-yo dieting and weight loss gimmicks that don't work and are ready to permanently change your relationship with food, email us today using the contact form and we will be pleased to answer any outstanding questions you may have. We look forward to hearing from you soon and maybe meeting you and helping you change your life for the better. If you have any questions regarding the treatment, please feel free to contact us at your convenience.
---
For a brief introduction to the GMB treatment view the short animation video below.
---