Kay's Weight Loss Success Story : 105 pounds lighter
Kay Lindley: Big Baby, Big Bones, Big Excuses! and finally, A Big Weight Loss, a Permanent 105 lb weight loss in fact, Kay is now 105 pounds lighter after Gastric mind Band Therapy.
Let's get this straight. From the beginning. I was a big baby, right? I was over 10½ lbs and ask any mother – that's big. That was 60 years ago, but it's my excuse and I am sticking to it. I have plenty other excuses too, so if you don't like that one, how about: all my mother's family have the same big bone structure and are all pear-shaped. It's in the genes. Or, my mother taught home economics and had to have three versions of every dish – a completed one, one-part way through to finish in class and one started from scratch in class and finished later. Someone had to eat all those lessons!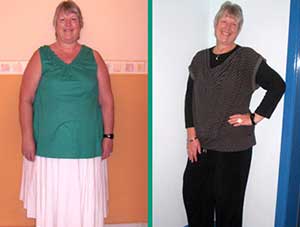 Kay Lindley: Big Baby, Big Bones, Big Excuses! and finally, A Big Weight Loss, a Permanent 105 lb weight loss in fact, Kay is now 105 pounds lighter after Gastric mind Band Therapy.
Most of her classes were about cakes and decorations – coffee cream, chocolate icing, jam fillings – need I say more? And it was just after the war and with children starving around the world it was almost criminal to leave food uneaten on your plate – how dare you disrespect the poor starving children in this way? Candy rationing ended when I was little and so this opened up a whole new world in terms of treats.
All of the Gastric Mind Band® (GMB) client testimonials on this site are the clients own words and opinions. The GMB treatment is not intended to diagnose, treat, cure or prevent any disease. Read our full disclaimer here.
I did try to diet–very many times over the years. I sometimes succeeded in losing a few pounds. I celebrated – yes with food and treats and ended up fatter than before I started on the diet.
I was always amazed how many illnesses and complaints could be attributed to being fat. I am in a high-risk category for breast cancer because of family history and guess what? Fat people are at greater risk because early lumps are not easily detected amongst the excess fat, so I felt that I am more likely to die because of this than a thin person.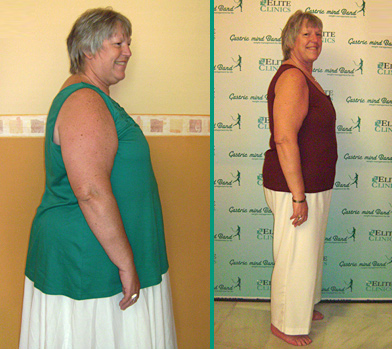 Permanent 105 lb Weight Loss
I have been married twice and divorced twice. I guess I married the first person who showed any interest because otherwise I was just another fat cast-off. Interestingly each divorce happened after a successful weight loss when I had the confidence to realise that there were more opportunities out there. I suppose that in one way I ought to be grateful for being fat. People assume that fat people are lazy and stupid. In an attempt to prove them wrong I am a workaholic who has succeeded way beyond anyone's expectations of me. I feel I have to be better than everyone else to appear normal in some respect.
In 2000 I was diagnosed with Type 2 diabetes. For many people this is the wake-up call they need to change their life style. In my case, my father had been a Type 1 Diabetic since he was about 60 years old and he lived a normal life, apart from twice daily insulin injections and blood checks, until he was almost 92. So with this as my background what eventually got me to change?
I'm 59 years of age and as well as obesity I have also inherited arthritis from both my parents. I decided to retire and I wanted to spend time travelling to places I have only ever dreamed of. But what is the point of paying out a small fortune to exotic places if I can't then walk around enough to see the sights and enjoy the place? I don't want a long retirement – ten years will do me fine – but I want them to be a good ten years. I want to be fit and active enough to enjoy the time I have. My mobility was becoming a serious issue something had to be done. So Permanent 105 lb weight loss, yes it is true.
I had considered a gastric band operation but I am a coward, I am squeamish and it is quite expensive, plus I started to read about the many side effects of the surgery. When I read an article about the Gastric mind Band method I thought – yes this is for me! I went straight online, booked in, paid for the entire course there and then. I wasn't sure if I could be Hypnotised effectively but I knew there was more to the method than that aspect alone. Plus of course I was going to get a trip to sunny Spain into the bargain, reading the page on weight loss Spain certainly helped me along with the decision making process. There would be sessions on Cognitive Behaviour Therapy and I had some understanding of this from my University days studying psychology. I started the treatment in the hope that I would find the necessary support and stimulus to make me change my habits and to see a way forward that was workable for me; not just a complete catalogue of no-no's.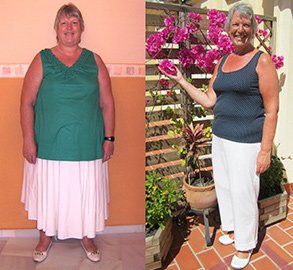 Weight Loss Hypnosis Works
When I started on my weight loss journey I never expected to achieve a permanent 105 lb weight loss. I discussed with Marion Shirran my therapist the reasons for my eating patterns. We talked about portion sizes. (Yes, I did often eat pre-prepared ready meals for two just by myself.) Food was a reward after a successful day. Food was a consolation after a less than successful day. I deserved it. I had earned it – why shouldn't I have what I wanted? By the end of the week of the treatment I had lost almost 5 lbs. I went home to an empty refrigerator, which I then filled only with "good" things. Fish features heavily, salads abound and five servings a day of fruit and vegetables is now the norm, not an aspiration. After one month I had lost more than 26 pounds. I was so proud.
After 5 months I visited the clinic again. This time the clothes I had worn on my first visit swamped me. A visit to see my diabetic nurse resulted in a reduction in my medication because my sugar levels were much lower than in the past. I couldn't wait to get on the scales. When I did I had lost a staggering 70 lbs in 5 months. My next target is to be another 39 pounds lighter. My new nickname is Skinny Minny. The only growth area in the last five months has been spending on new clothes. Imagine my excitement at being able to shop in a store rather than trawling through catalogs of clothes for plus sizes. There's still a way to go but so far the progress has been very, very good and long may it continue. Permanent 105 lb weight loss.
Kay was interviewed by Lorraine Kelly on GMTV breakfast programme.