Got a Question, Interested in Availability
Session Three – Weight Loss Hypnosis
Session three of the Gastric Mind Band is dedicated to Cognitive Behaviour Therapy. Using all the data collected in the first two sessions, your therapist, normally Martin Shirran will introduce you to a whole new way of thinking about food, as well as sharing with you a selection of techniques that will ensure your new eating habits are permanent. You may well be introduced to the Origins of Obesity along with a number of other subjects that will hopefully completely change your eating habits. Additionally we will explain how to use our pause button technique to literally stop or "freeze" time, along with TactileCBT®.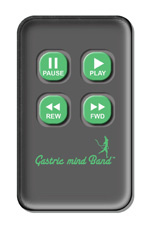 The Pause Button Technique is a really effective tool that clients are taught how to use during their sessions. Clients are shown how to incorporate its use in their lives at times when they are feeling tempted to eat something that they know they don't actually need. The Pause Button Therapy® is unique to the GMB treatment package and is a protected trademark. All clients are, of course, presented with their own GMB pause button to take home after the final session. The session contains a number of other components, clients are shown a number of in house films and introduced to photographs and reviews of past clients that are perfectly matched to the individual concerned.
---
The session normally lasts around two and a half hours, however like all sessions at the Elite clinic, clients are never scheduled, 'Back to Back', resulting in additional time always being available, as and when required. Your complete satisfaction and success is paramount at all times. Martin and Marion's 'Mantra' has always been To Exceed Their Clients' Expectations, Each and Every Time.
For some clients alcohol can be a major factor in the weight loss journey. Where required additional time is dedicated exclusively to the subject and a number of unique tools are shown that the client can start to introduce into their lives immediately.
For more information about our Pause Button Therapy, please visit pausebuttontherapy.com